Lynn Krause Pastels
About Me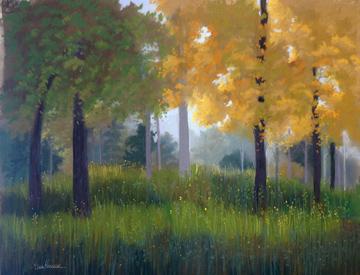 About Lynn Krause
I am an artist living and working in Woodstock, IL whose preferred medium is pastel. My art education began at the Chicago Academy of Fine Art and followed with a brief career as a commercial artist in a Chicago studio. I left the commercial art world in 1966 and in 1967 began exhibiting at art festivals where I continue to show my pastels to this day.

I work on several types of pastel paper–including Kitty Wallis paper, colored sanded paper or Arches black cover stock.
Each piece begins with hard pastels to establish the lights and darks, then continues with softer pastels to completion of the painting.

Pastels are pure pigment with no liquid binder that can cause discoloration. Pastels from the 16th Century are just as bright today as the day they were painted.

I exhibit my vibrant landscapes at art fairs and festivals nationwide.
All pastels subject to prior sale
All Images © Lynn Krause Studio, 2019